Cosmetic Veneers
Can you answer Yes to any of the following six questions about your smile?
If so, Veneers may be the answer to transform you when grinning, speaking and laughing:
Is your smile uneven, with perhaps a few front teeth standing out or dominating too much?
Do some of your front teeth have uneven lengths, with some shorter than others?
Do some of your teeth appear too narrow or pointy?
Do you have damaged or worn down teeth that make them look too square and disproportionate?
Do you have spaces or gaps between your teeth?
Perhaps your front teeth appear discoloured and patchy because they have a lot of older small stained fillings?
Teeth whitening will certainly brighten your teeth and teeth straightening will resolve crooked teeth, but if you'd like to significantly improve the perceived shape or appearance of your entire smile, then cosmetic ceramic veneers may be the best option, giving you a fresher, and more youthful and natural look.
Worried about a 'fake' looking unnatural smile?
'Our cosmetic expert and practice owner Dr. Arjun Kachhala says, 'In case you're wondering-WE DON'T do 'fake' smiles! My aim is to provide you with the best potential smile, one that nature could have provided, one that enhances your face but still blends in subtly-A smile that helps you to achieve your best look without it looking silly!'
Click here to read HOW Arjun will avoid a fake unnatural look.
'Real Results at our practice'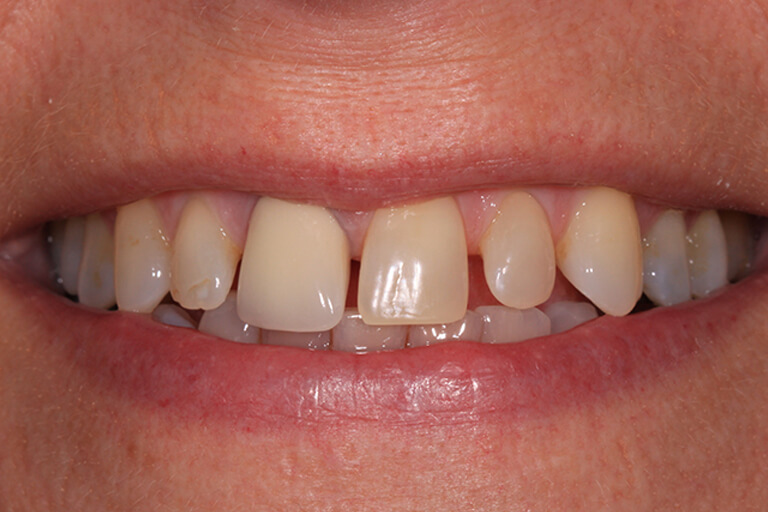 Before
After
Benefits
When placed on teeth, veneers give the illusion of a different shape and a more even natural colour. Veneers are thin, strong and discrete 'shells' which are custom-made from a special dental ceramic. Think of them like false fingernails-but veneers are custom made and are permanently bonded over the front (cheek or lip-facing) surface of your teeth. Dental ceramic is a fantastic material for veneers because it refracts the light in much the same way as enamel, giving you an incredibly natural appearance.
Cosmetic veneers can be placed individually on a single tooth or more usually as part of a larger cosmetic treatment plan to makeover your entire smile (e.g. upper 6, 8 or 10 teeth). They're commonly chosen in this way to give the illusion of a natural healthy smile, a wider smile or a straighter, even and brighter smile, which will appear free of gaps/spaces, free of unevenness and free of any discolouration.
When multiple veneers are carefully planned and placed together in this way, it can create a profoundly new but discretely balanced smile whilst still being in proportion with the rest of your face.
'Real Results at our practice'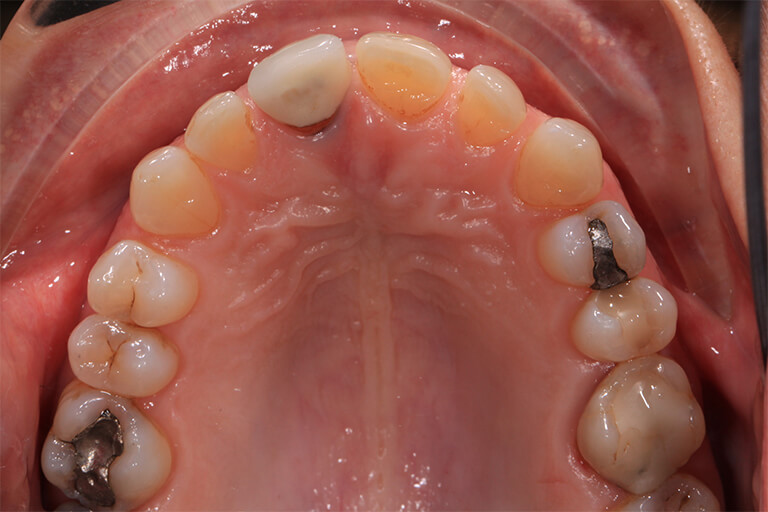 Before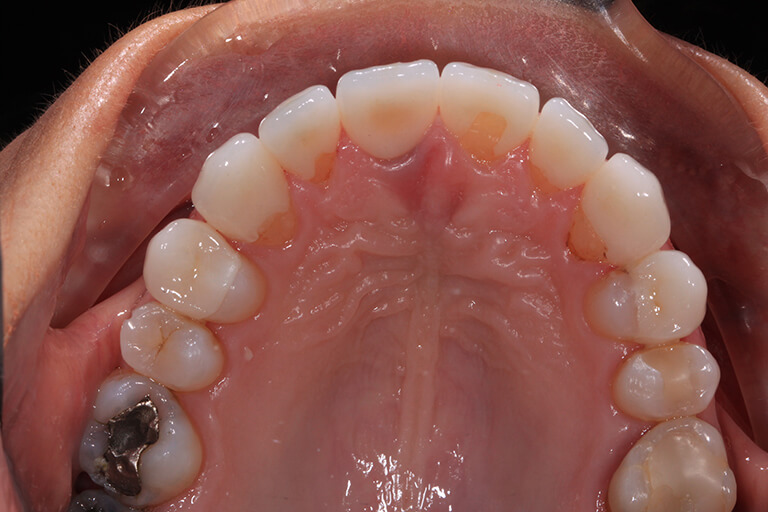 After
How Long Do Veneers Last?
We get asked this question a lot. If you have dental veneers, you can expect them to look their best for at least 10 to 15 years and often much longer, as long as you follow our advice and keep up a good oral hygiene routine. You may need to avoid having certain food or drinks too often, but otherwise you will need to brush and floss your teeth thoroughly everywhere daily and attend regular check-ups with the dentist and hygienist, as you would for your natural teeth.
Over time, you may notice that your veneers start to look a little less than 'perfect' due to a slight dulling of the shiny porcelain surface-this can be easily resolved by polishing the veneers using a special polish and disc to bring them back to life. If you have receding gums, you may also be able to see the join between the veneer and the underlying tooth if you look very closely. Although it is not clinically necessary, you may decide you want to replace your veneers for cosmetic reasons if this happens in the future (although Dr. Kachhala has never needed to do this in almost 20 years).
'Real Results at our practice'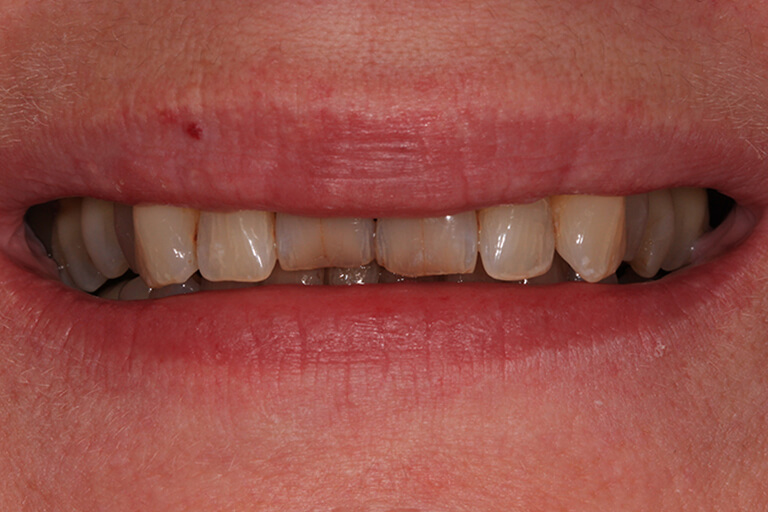 Before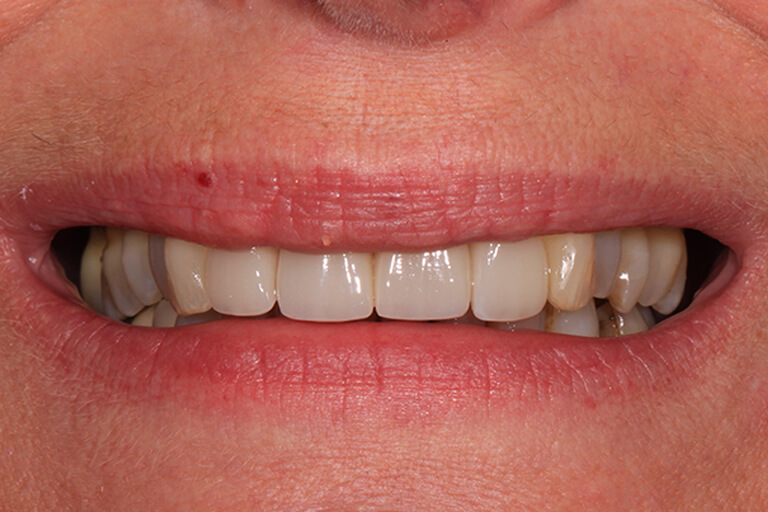 After
Veneers after Teeth Whitening?
If you only need a few veneers (e.g.1 or 2 or 4) you may first decide to opt for teeth whitening treatment to further makeover your smile. In this case, we would always advise you to have the teeth whitening treatment first because we can match your ceramic veneers to the new brighter colour of the surrounding natural teeth after whitening. Once fitted, it's not possible to change the colour of veneers with teeth whitening as only natural teeth will whiten with teeth whitening. Once the colour of the veneers is chosen this remains fixed, so it is better to whiten the natural teeth first, then to fit any veneers which are matched to the new brighter colour. If you choose not to have teeth whitening first, we'd match the veneers to the existing colour of your teeth, meaning they'd need to be changed if you decided later on that you wanted all your teeth to be brighter (we therefore recommend not having it done the wrong way round)!
Contact us to arrange an appointment to have your smile improved with veneers, or to arrange an assessment for a complete smile redesign.
'Real Results at our practice'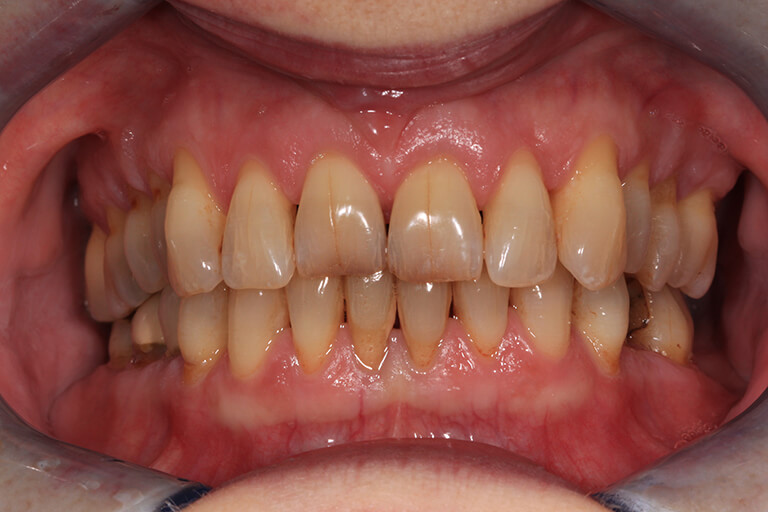 Before
After
The Veneers Process-What Happens Next?
Here is a very simplified summary, please book an appointment to discuss in more depth.
Step one: Preparing your teeth
In order for your dental veneers to fit properly, we need to discretely remove a very thin layer from the front of your tooth/teeth to make sure that they're the right shape and to create a surface on to which we can bond the veneer.
We will usually numb the area around your teeth with a painless injection then we carefully remove a very small amount off the cheek facing surface – just enough to prevent the veneer from making your tooth look or feel too bulky when the veneer is fitted.
We use a putty-like material to take impressions or moulds. This records the shape of the teeth that require veneers. Our skilled dental technician then uses these impressions to custom make your veneers, referring to the colour-match information we provide to ensure that they blend perfectly with the rest of your teeth.
Step Two: Fitting your Veneers (after 'prototypes' have been approved)
Once your veneers are ready, we will invite you back to the practice. During this appointment, we will carefully bond the veneers to the front of your teeth – it's a bit like putting together an intricate 3D jigsaw! – And your new smile will be complete.