Dental Implants
Are Missing Teeth or Loose Dentures Preventing You From Chewing Properly?
Losing teeth can be devastating. It can affect enjoyment in life and the type of food you can eat.
Fewer teeth also mean that more pressure is placed on the other teeth that remain. Your remaining teeth which may already be heavily filled or crowned will experience greater chewing pressures and will also be at an increased risk of damage or fracture.
This will lead to further problems in the future, starting a negative spiral with more teeth being removed.
We see many people who've lost a succession of teeth this way and who unfairly blame themselves, when all they needed was to be properly educated on the importance of always replacing missing teeth.
If you have one or more missing teeth, you may be looking for a solution that will allow you to bite, chew and talk confidently as well as restoring your smile.
Dental implants are the 'Gold Standard'. They are the closest thing to replacing missing teeth today. They will allow you to bite and chew properly and they also enable you to speak and smile again.
If you have missing teeth or dentures and can answer 'yes' to one or more of the following 7 key questions, you may benefit considerably from having dental implants placed.
The questions below have been carefully conceived, based on actual feedback that we regularly receive from our own patients after treatment at Kenilworth Dental Practice:
Do you have missing teeth or loose dentures that are preventing you from eating or chewing properly?
Are missing teeth or loose dentures preventing you from speaking properly?
If you have one or more missing teeth, do you feel self-conscious about the gaps in your smile? Does this affect your confidence when smiling? Do you restrict your 'true', natural smile or hide it with your hands because of any visible gaps?
Have you started to notice problems with your oral health, where food is becoming trapped in any gap/s? Does this cause pain, soreness, bad breath or bleeding?
Do you avoid eating out, worried about the embarrassment of dentures becoming loose or dropping out?
Do you have to restrict your diet? Do you avoid meat or other harder foods that require biting and chewing? Are these foods that you might have once enjoyed?
Do you have to change how you bite and chew food to compensate for the missing tooth/teeth, for example do you always have to bite or chew on one side?
If you've answered yes to one or more of these questions and if you're interested in finding out more about dental implants, call us on 01926 512747 (Press Option 1).
'Real Results at our practice'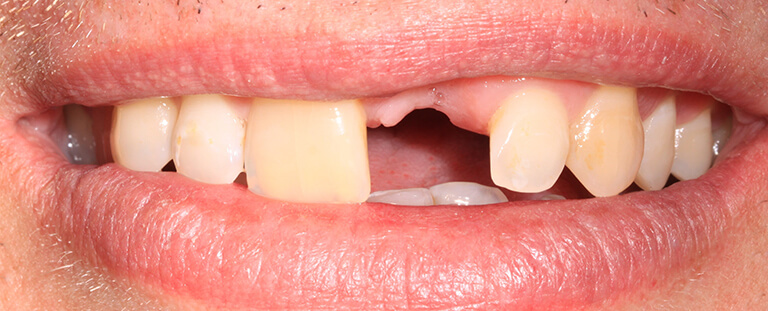 Before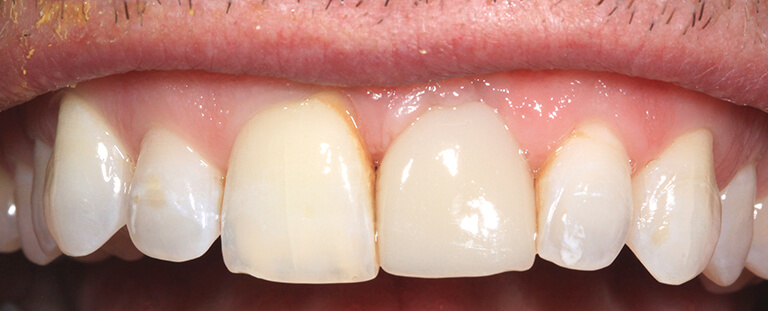 After
Five Unique Reasons to choose us for your Dental Implants
'Real Results at our practice'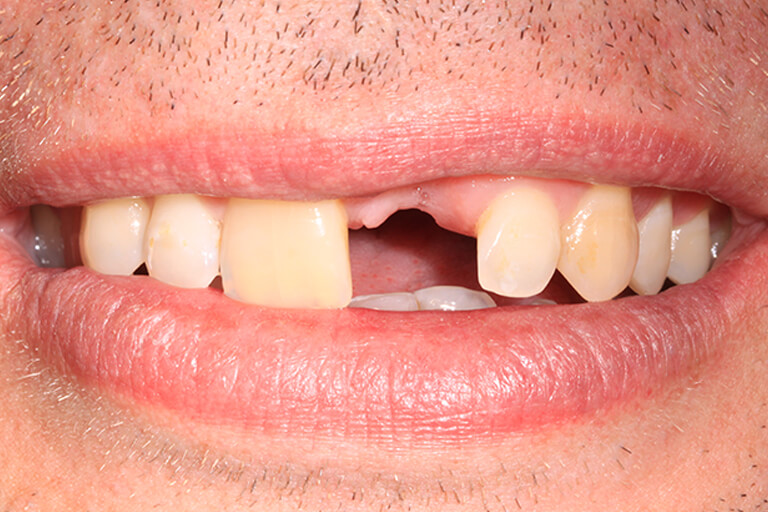 Before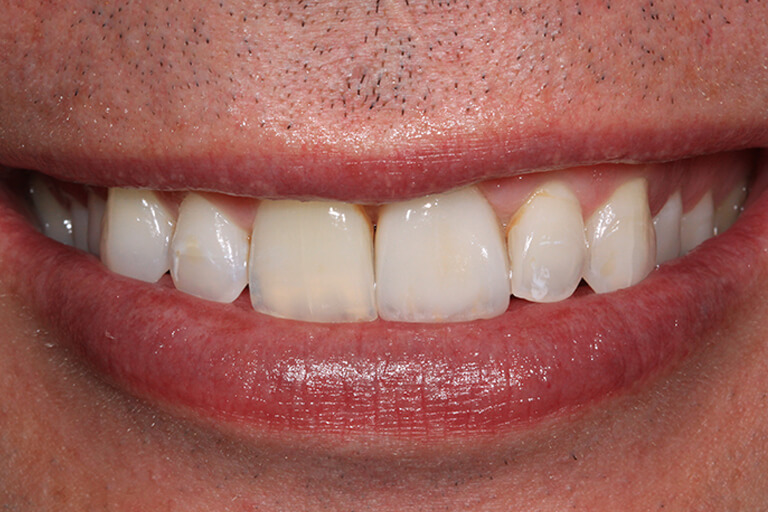 After
What are Dental Implants? How Do They Work-10 things to know?
Unlike removable dentures, they are a permanent fixed option.
They look natural and they can restore the function and appearance of your teeth, giving you back your confidence and the ability to eat, chew, talk and smile properly.
A dental implant is essentially an artificial 'stud' made of specially treated titanium.
It is approximately 6-15mm long and up to approx. 5mm in diameter.
A dental implant replaces the root of a tooth (the hidden part below the gum).
It is placed painlessly under strong local anaesthetic directly into the jawbone using a simple painless procedure, almost the reverse of having a tooth removed.
The bone 'ossifies' or fuses and strengthens around the implant and this process usually takes around 3-4 months.
After the implant has fully integrated, the final phase of treatment begins to make the visible crown on top of the gum. We take simple impressions (moulds) along with other records and send these to our laboratory.
There, our skilled dental technicians can create an artificial tooth crown that is perfectly colour matched and shaped to blend in with your natural teeth.
We then attach this tooth securely to the implant at the final appointment.
So, if you have a gap, you could have a tooth to bite on again within 5-6 months on average. The tooth will look and acts like a natural tooth.
In summary, a dental implant replaces the root of a natural tooth. After the implant has fused properly and fully integrated with the bone it can be used to support an (implant retained) crown. The crown is the 'visible' part above the gum that you can chew, bite, smile and talk with once again.
'Real Results at our practice'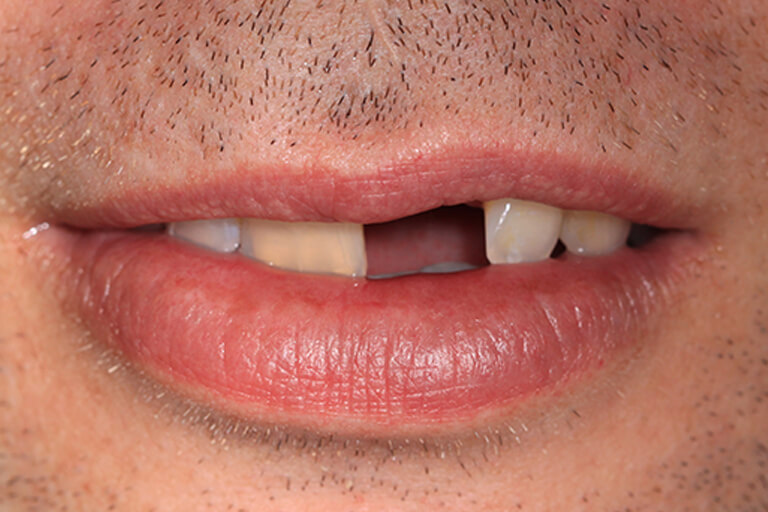 Before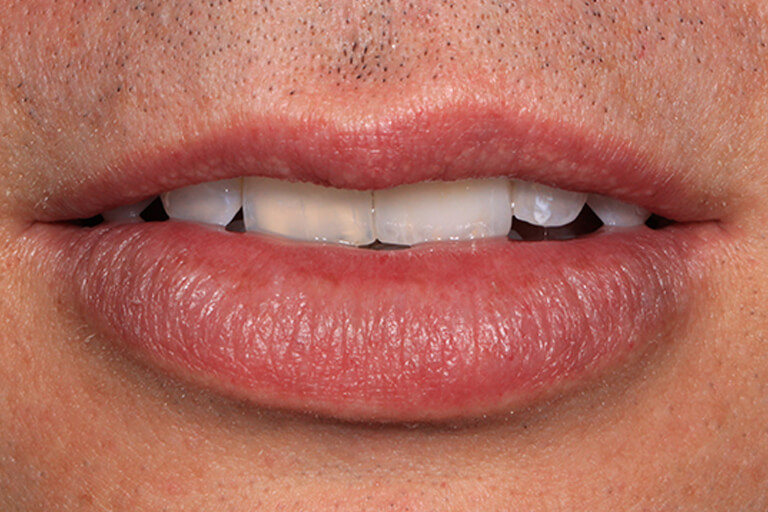 After
Why you should always replace gaps in your mouth
For long term predictability in your mouth and for stable oral health, missing teeth should always be replaced. The advice below also applies if you're about to have a tooth removed.
When gaps or spaces are created after a tooth has been removed, the remaining teeth don't stay fixed in position and they will move naturally over time. There are risks of neighbouring teeth gradually moving into the spaces over time (this is called 'drifting').
Secondly, there are also risks of teeth in the opposite jaw creeping up or down into the spaces over time (this is called 'over-eruption').
Over time, drifting and over-eruption of teeth can cause detrimental changes to the bite.
In addition, when tooth loss occurs, the remaining teeth experience greater chewing forces. This puts them at a greater risk of fracture, especially any teeth that already have large fillings or crowns on them.
So…losing teeth creates a very unstable situation where the bite can change and where the rapid and progressive loss of further teeth can also occur, often unexpectedly.
In summary, there are sound clinical reasons to consider replacing missing teeth. You will achieve a more predictable and stable mouth in the long term, without the risk of unexpected problems occurring regularly.
In the past, teeth were simply removed without replacing them, but in modern dentistry the decision to remove a tooth is not taken lightly. Now, before a tooth is removed, we always discuss the risks highlighted above along with the options for replacement. This has all come about as a result of greater knowledge & good research over the last 20-30 years with much greater emphasis being on preventive dentistry (looking at the long term picture) rather than reactive dentistry (solving short term problems only as they arise). We always encourage all our patients to try to understand how the long term situation might look, in order to minimise future problems.
Replacing all missing teeth creates a more stable and predictable long term environment in the mouth with a reduced chance of unexpected problems occurring in the future.
For more information about why gaps should be replaced click here >
'Real Results at our practice'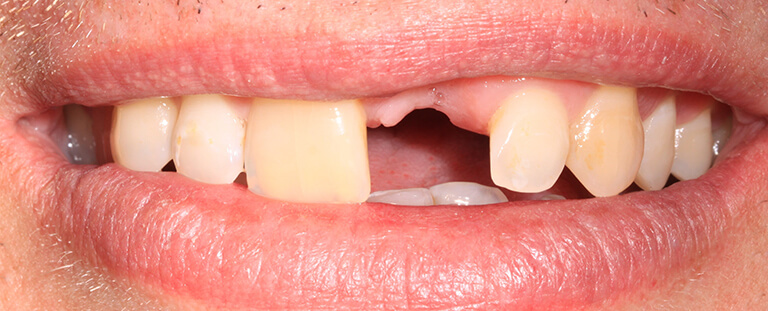 Before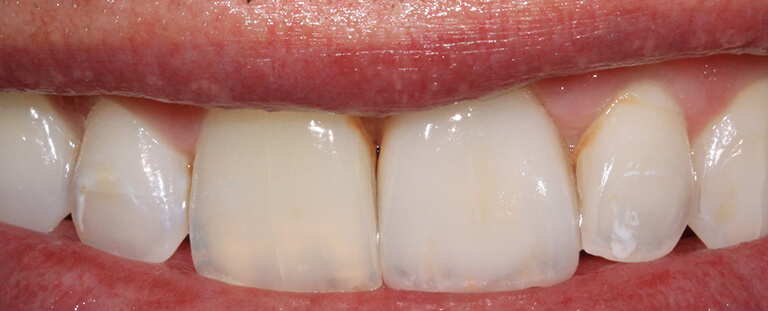 After
Dental Implants Appointment Form
Do you have one or more missing teeth or loose annoying dentures?
Would you like to know more about dental implants and whether they're the right treatment option for you?
The best way to decide is to discuss your individual case with us.
We'll give you an honest unbiased opinion, based on our years of experience and by focussing only on your needs.
To arrange your initial free chat with our Patient Care Coordinator, simply click here , fill out the form and a member of our team will be in touch.
Alternatively, call us today on 01926 512 747 (select option 1 to speak to Sue, our Patient Care Coordinator).