Teeth Whitening - A Taster
Many studies have shown that people view whiter teeth as a sign of youth, good health, of looking after oneself and leading a healthy lifestyle. Some even suggest that a healthy, attractive smile can open doors to new relationships and work opportunities perhaps due to greater confidence.
Teeth whitening is a quick, affordable and effective way to improve the appearance of your natural teeth within a relatively short time frame (5 weeks). Whitening your teeth can minimise the appearance of crooked teeth, as well as downplaying stains and other flaws that might exist on them.
The procedure involves gently whitening the natural tooth surface using a special whitening gel. We use a gentle but effective gel up to a maximum strength which is still well within safe limits. Teeth whitening doesn't whiten crowns (caps) or fillings, only the surface of natural teeth.
Teeth whitening under the supervision of a dentist doesn't harm tooth enamel or gums.
'Real Results at our practice'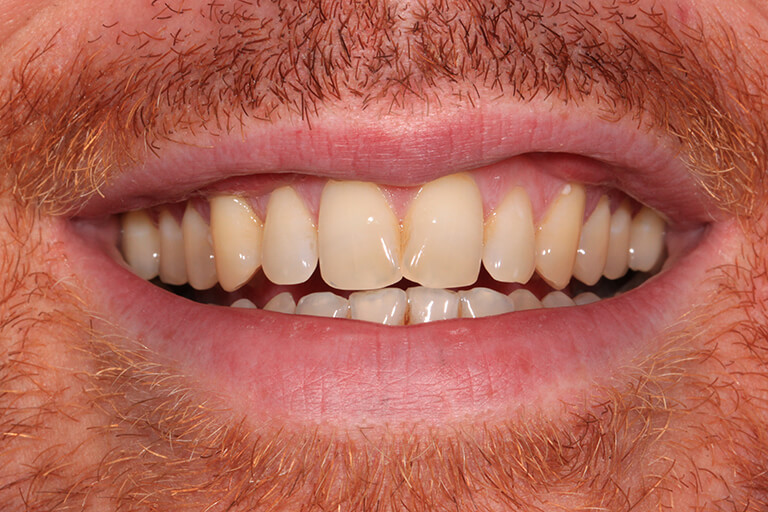 Before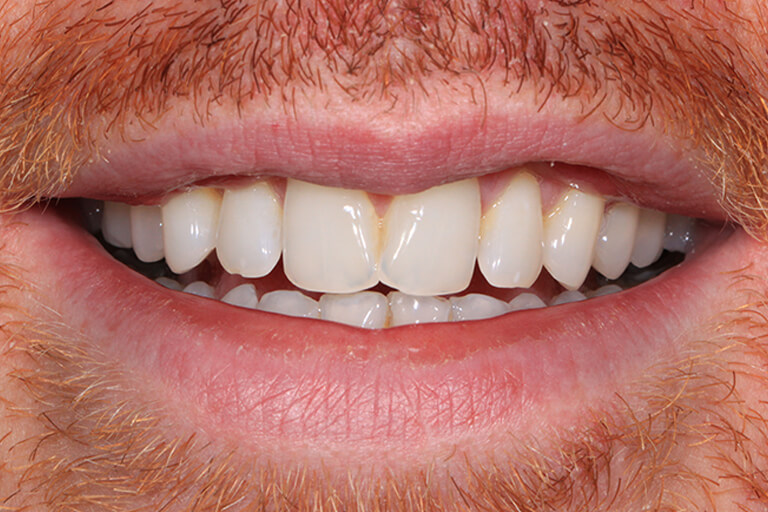 After
Teeth Whitening Further Details
Before teeth whitening, first we will always carry out a thorough oral health assessment. This includes assessing the health of all the teeth, gums and fillings. It also includes an oral cancer screening and an assessment of your current and predicted future oral health risks such as gum disease, tooth decay and tooth wear. We will always discuss the whitening procedure in full as well as the likely overall timescales and the number of appointments involved. You'll have plenty of time to ask lots of questions before you start any treatment and we'll also tell you how best to maintain the colour predictably after the treatment is complete. We'll take accurate clinical photos of your teeth before and after treatment as an additional step as part of our clinical records.
Teeth whitening procedures are safe when carried out in a controlled and safe environment with a dentist in a dental surgery. It can be carried out as a standalone procedure or it can be used as 'the icing on the cake' to enhance other cosmetic dental treatments, such as before Smile Design Veneers or after Invisalign® Orthodontic Treatment.
By using teeth whitening in combination with other treatments, we can add better symmetry, proportion and balance to your smile, encouraging you to show it off at every opportunity.
We've never had a patient that ends up with teeth that look 'too' white or 'fake' (we often get asked this). This is a common but understandable concern. We always guarantee a natural 'B1' tooth shade that you'll be happy with!
'Real Results at our practice'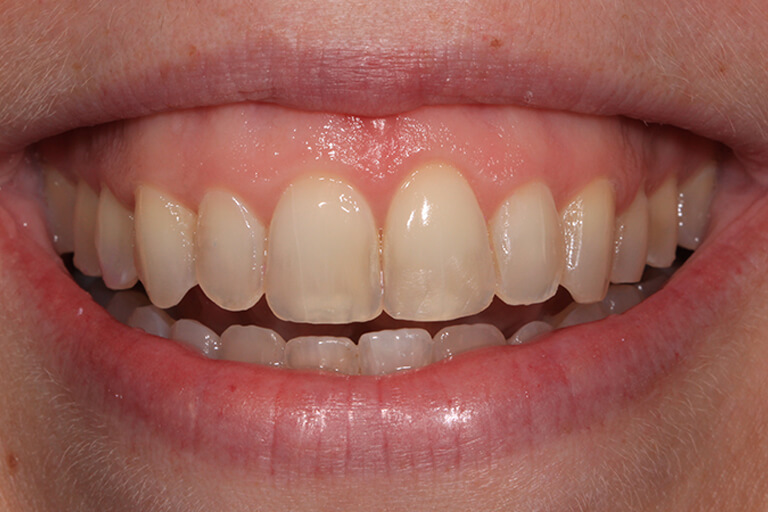 Before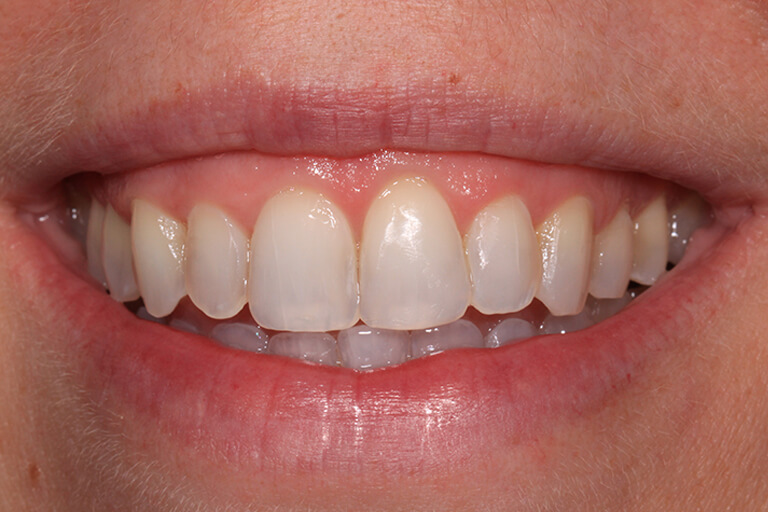 After
What is 'Beauty' Teeth Whitening?
Here at Kenilworth Dental Practice, we favour our own 'Beauty' Teeth Whitening home treatment as we feel this is the most effective whitening treatment currently available. It is a process that we have been using for over ten years and it guarantees 'VITA' shade B1 (a natural and healthy shade of white).
With Beauty Teeth Whitening Treatment, we provide special teeth whitening gel which you wear with custom-made close-fitting whitening trays. The trays are bespoke (to fit your mouth only) and are created after taking upper and lower moulds or impressions of your teeth.
You will wear these whitening trays for 3-4 hours every day/evening for five weeks, before coming in to the practice for a final short review and post-treatment photographs.
After your treatment, you should see a noticeable improvement to the colour of your teeth. To maintain the wonderful colour after treatment you need to be careful to minimise or avoid smoking, tea, coffee, red wine and any highly coloured food or drink, otherwise you may notice that stains and discolouration build up more quickly than if you try to avoid these things.
'Real Results at our practice'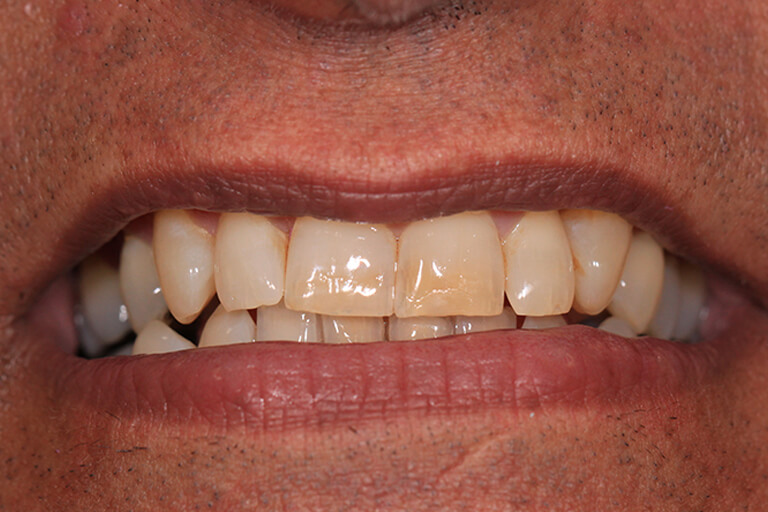 Before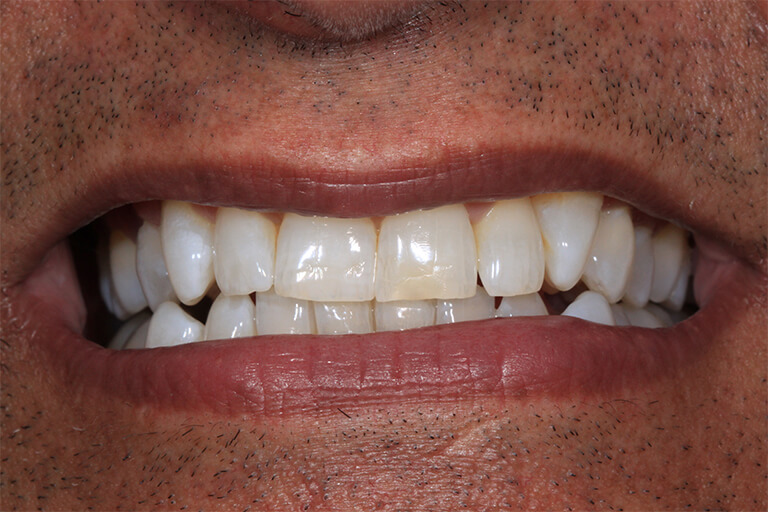 After
How long does Teeth Whitening last?
To maximise the brighter appearance, we strongly recommend a 'top-up' once per year with 1 weeks' worth of whitening gel annually (1 new syringe applicator). Without this you will notice the colour fading after around three years, depending on your eating or drinking habits. With a 'top-up' treatment, you would use a new applicator of top-up whitening gel with your original home whitening trays (which you basically keep safe after the original whitening treatment is complete). The top up gel would thus be used to top up the colour for just one week every year, using your previous whitening trays. Recommended top-up gel is available from Kenilworth Dental Practice (at additional cost) see our pricelist page for up to date information.
We strongly recommend that you see our hygienist before you start your teeth whitening treatment as she will remove any staining and calculus (tartar) build-up to maximise the visual results for you.
To book an appointment click here.
'Real Results at our practice'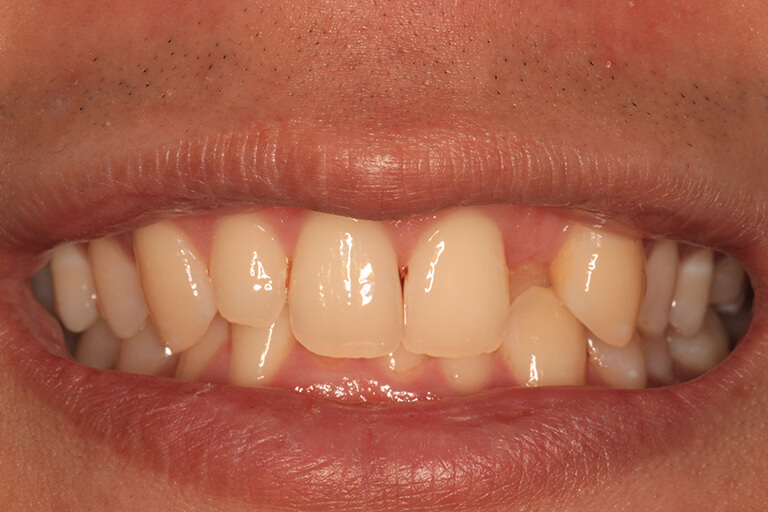 Before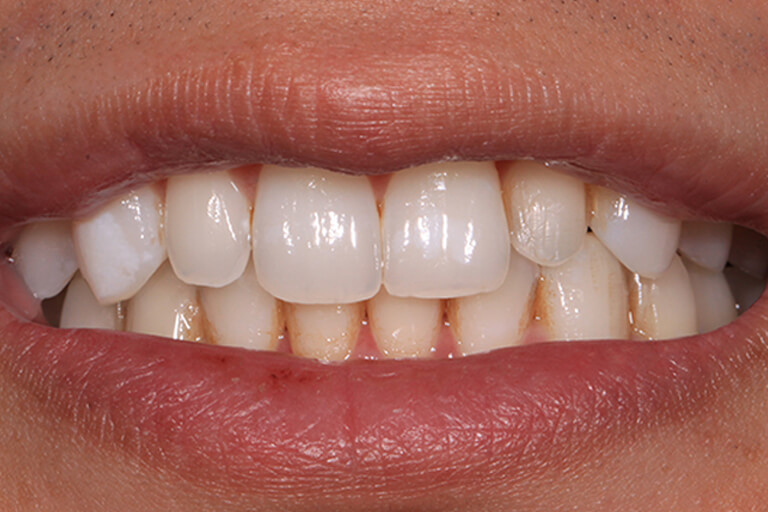 After
The Process – What Happens Next?
Step one: Your Initial Assessment and Impressions
Once you've decided that you want Teeth Whitening treatment, you will need to attend for a thorough clinical assessment to assess your suitability and also for us to take impressions of your upper and lower teeth. We need these to make customised whitening trays that fit perfectly to your teeth.
Our unique whitening tray design allows for a thin and even thickness of gel to be held on the outside (cheek/lip facing) surface of all the teeth. This allows for consistent, even and predictable whitening results.
Occasionally, some people do experience sensitivity during treatment.
Our customised whitening trays have been innovatively designed and developed to minimise sensitivity, by completely avoiding leakage of whitening gel onto the tooth/gum junction which is often the main cause.
To control sensitivity, at your initial visit, we also provide a special de-sensitising tooth serum before you start treatment-you would swap your normal daily toothpaste for the serum before you begin whitening and you continue using it for 3-4 weeks whenever you brush your teeth –the serum conditions the teeth to reduce any sensitivity that you might otherwise experience.
Finally, if you're prone to sensitivity we'll also give you specific de-sensitising advice before you begin, such as avoiding acidic foods and drinks such as wine or citrus fruits.
Step Two: Home Whitening Phase
After approximately two weeks to make the whitening trays, we will call you back to check that the trays are fitting properly in your mouth. We will also provide you with and show you how to apply the special whitening gel into your custom-made upper and lower trays. You will need to wear these for 4 hours every day/evening consecutively for 5 weeks. In summary, at this appointment, you'll be provided with your trays and all the gel needed, you'll be given full instructions and you'll also be shown how to apply or remove the gel from the trays and teeth, how to care for your trays and teeth and how/where to store the gel.
Step Three: Final Review
After 5 weeks we will call you back in for a short review appointment to check the colour and to confirm that you're happy. We'll also take a final set of clinical photographs for our records. We will guarantee a 'Vita Classic-B1 shade' which is the whitest natural looking tooth shade on the standard gradient or colour chart that dentists use.
"It is a natural healthy looking white".
"None of our patients have ever told us that they feel their teeth are too bright (or still too dark) after 5 weeks home whitening and we always recieve very positive feedback".
If you have any further cosmetic dental treatments planned as part of an overall smile enhancement process (such as ceramic veneers or crown work), we'd start this after stage three so that the treatment can be matched to the new, whiter brighter colour of your teeth.