Teeth Straightening with Invisalign® (Almost Invisible Braces)

If you've always wanted straighter teeth, or if you hate the way your smile looks in photographs and if you're tired of hiding your smile, then Invisalign® offers an alternative to traditional fixed braces that is:
Quick
Affordable
Comfortable
Discrete
Removable
5 Reasons to choose us for your Teeth Straightening with Invisalign®
Trust our Experience: Cosmetic expert and Practice owner, Dr Arjun Kachhala and his team have well over 15 years' experience treating patients successfully and exclusively with Invisalign® (since 2008)
Quick Treatment: With us, most people's teeth can be straightened within just 12-15 months (often much less) using this unique system. Of course it depends on how crooked they are at the start.
No Age Limit:

You might be surprised to know that the majority of patients we see for teeth straightening in Kenilworth tend not to be in their teens or 20's.


They're mostly aged in their mid to late 40's to late 60's, so it's really never too late!
Affordable: Practice Owner, Dr. Arjun Kachhala is authorised and registered with the Financial Conduct Authority which means we can offer you a very wide choice of affordable monthly payment options (including 0% interest for up to 2 years).


This sort of treatment is no longer restricted to the rich and famous.

You don't need to go to Harley Street to get a fantastic smile from an experienced Cosmetic Dentist; a life changing smile is virtually on your doorstep with Dr. Arjun Kachhala at Kenilworth Dental Practice!

Click here to see examples of affordable payment options.
Painless: We've genuinely never had any patient ever tell us that their treatment was painful!
'Real Results at our practice'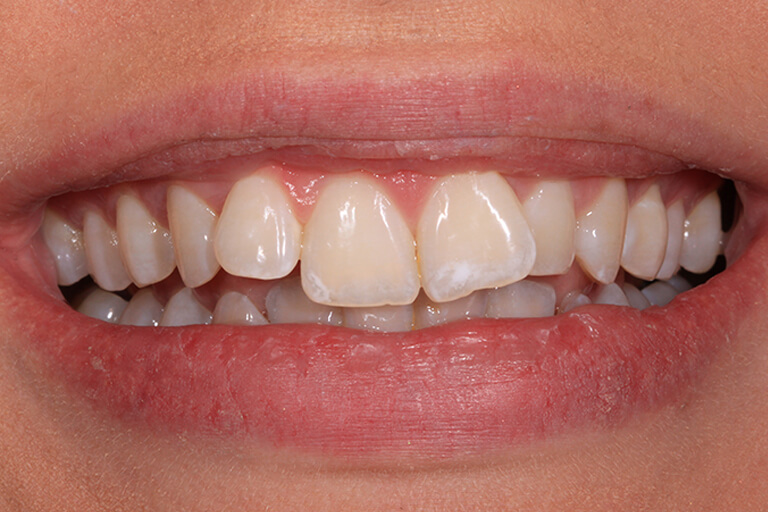 Before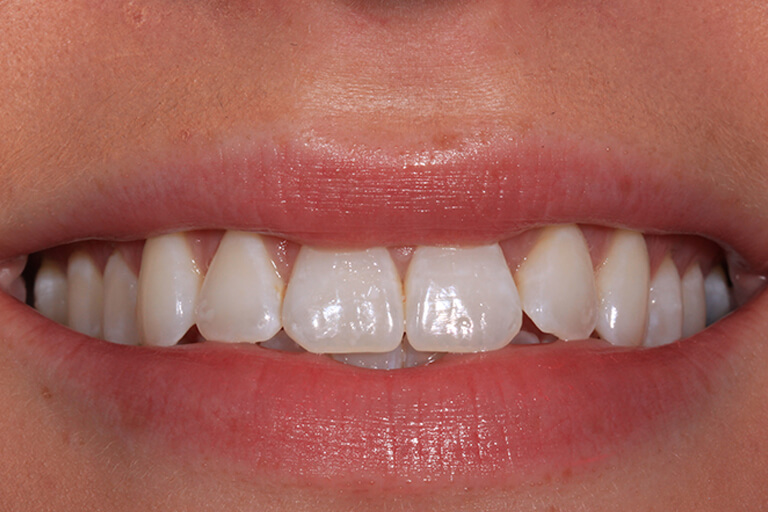 After
Futuristic Teeth Straightening!
Invisalign® is a virtually invisible teeth straightening system that originated in California and amazingly, has already been in existence for around 25 years. So far, over 6 million people worldwide have been successfully treated with Invisalign®.
It uses a series of custom-made removable 'aligners' to move your teeth.
The aligners are clear, comfortable, thin and discrete and they will only fit your mouth. When worn in sequence, each aligner gradually moves your teeth towards the correct straight position.
How? Using an accurate digital computer simulation of your own teeth's movements!
Firstly, we digitally scan your teeth into an incredibly precise 3D computer simulation. Dr. Kachhala will then take the time to programme, plan and modify the 'virtual' movements of your teeth on the simulation, to determine how your own teeth would be expected to move from start to finish, thus creating a 3D virtual treatment plan.
Dr Kachhala will actually show you your entire virtual treatment plan before you start treatment! Uniquely, this means that at Kenilworth Dental Practice you get to see your predicted smile and how the final teeth positions will look BEFORE you even begin your treatment!
The aligners themselves are each manufactured precisely according to the final virtual treatment plan simulation that you'll see and approve. A few weeks later once the actual manufactured aligners have arrived you can start the real treatment! It really works!
Treatment with Invisalign® takes the same length of time as with traditional orthodontic braces and it also treats the same types of cases.
Our Practice Owner and cosmetic expert, Dr. Arjun Kachhala is incredibly passionate about Invisalign®. He says, 'The future really is here! I've been privileged to be using Invisalign® since its very early days in the UK and I still get so incredibly excited seeing it work, not to mention the impact that the results actually have on people's lives. It just feels like magic, I have an amazing job and I love it!'
'Real Results at our practice'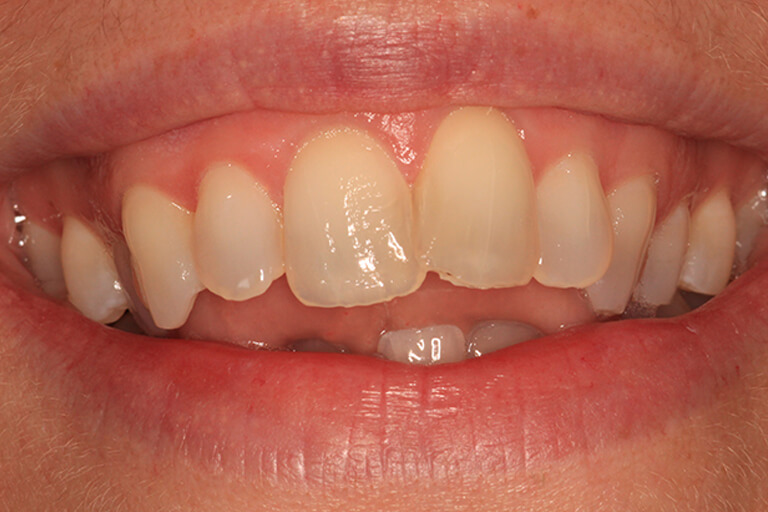 Before
After
The 'Nearly Invisible Aligners'
The aligners themselves are thin, transparent and removable. As they're hardly noticeable, this makes Invisalign the most discrete orthodontic solution in the world.
The aligners are worn over your own teeth all the time, except when you're eating, drinking or brushing your teeth.
Because they're worn in a sequence, each aligner thus gently moves your teeth into the next predicted position until they're eventually straight.
Every 2 weeks precisely, you would change to the next aligner in your unique pre-determined sequence. Don't worry-This doesn't mean that you need to see us every 2 weeks for an appointment however!
You would be given 4 or 5 aligners at a time by Dr. Kachhala and in general you would only need to attend for a review appointment with us approximately every 8-10 weeks respectively, once actual treatment begins.
At each review appointment we check that the teeth are tracking and we provide the next batch of aligners in your unique sequence.
The aligners are quite thin and our feedback consistently shows that patients don't really notice them while they're in.
There is also no pain as each aligner only applies a very subtle pressure to get the teeth to move. The Invisalign® system is very much designed to be gentle enough to fit around busy modern lifestyles and to be comfortable rather than a daily hindrance or distraction.
Treatment typically takes between 10 to 15 months depending on the complexity of your case. The more complex, the more aligners that will be needed and the longer the treatment-everybody's case is different. At Kenilworth Dental Practice, you will know how many aligners you'll need once you view and approve your virtual treatment plan simulation with Dr. Arjun Kachhala.
'Real Results at our practice'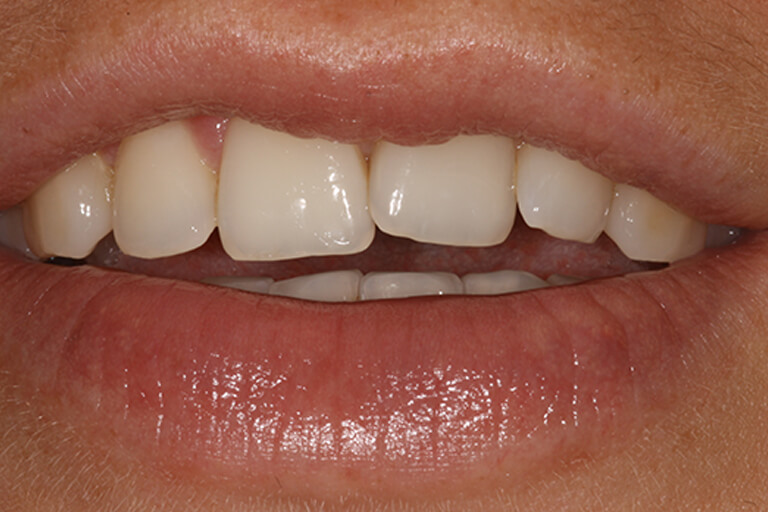 Before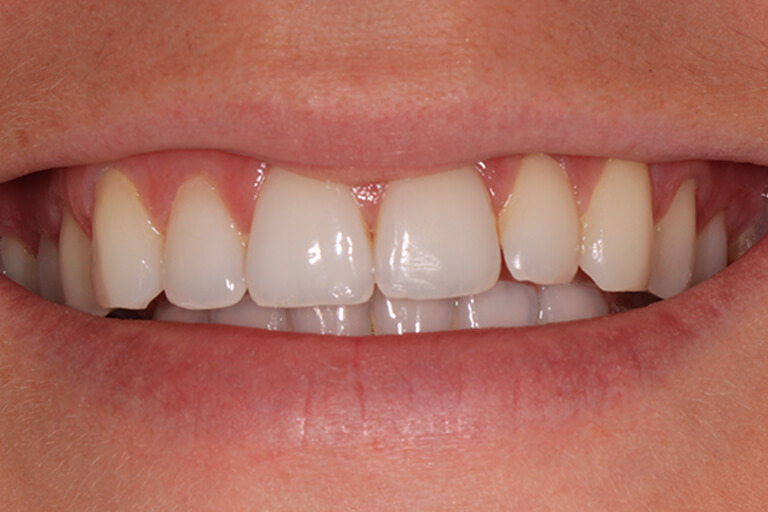 After
The Invisalign® Process – What Happens Next?
Step one: Initial consultation
To begin your Invisalign® journey or to discuss whether Invisalign® would be the right orthodontic option for you, you're invited to come into Kenilworth Dental Practice for an initial consultation experience.
This is a relaxed, leisurely and informal experience which allows us to find out about you as a person as well as your needs.
Our feedback shows that the assessment experience itself is very popular and highly valued. A lot of information will be discussed, all your questions will be answered and, of course, you'll also have a detailed assessment of your mouth. The whole experience includes a short break for lunch (after the assessment) and will take around 3 hours in total.
Our award-winning Cosmetic dentist and owner, Dr Arjun Kachhala, is an Invisalign® Certified Dentist who has been providing Invisalign® treatment since 2008 and has seen at first-hand how fantastic the system is. In 2012, Arjun was voted one of the UK's Top 50 dentists according to Dentistry Magazine, a national industry publication.
Your initial consultation is the ideal opportunity to discuss the issues you have with your teeth, evaluate your specific needs, and explore what kind of results you're hoping to achieve. With this information, Arjun can then determine the best treatment plan for you as an individual. It's not a rushed process; you can take your time.
Our feedback from existing patients consistently shows that you will benefit from Arjun's thorough, methodical and reassuring approach. No question is too small and no detail insignificant when it comes to ensuring your treatment matches your needs and that you feel fully consulted about your options.
At this stage, we will also give you a breakdown of how much your treatment would cost and explain your potential payment options.
Step two: 'Records' appointment
If you decide to go ahead with your Invisalign® treatment, the next step is for us to take accurate clinical digital photographs and accurate impressions of your upper and lower teeth. This information is all sent to the Invisalign® facility in the USA where the impressions are scanned to help Arjun to develop the advanced 3D computer simulation of how he will move your teeth into their final positions. These impressions can also be taken on the same day as the assessment appointment if you wish, if you know that you're ready to proceed.
Step three (after 2-3 weeks): Viewing your completed 3D simulation!
Arjun will invite you back into the practice approximately 2-3 weeks after the Records appointment so that you can view your personal ClinCheck® 3D simulation. This is your virtual digital treatment plan and is always an exciting moment as you'll see how we expect your treatment to progress with each aligner and where the final positions of your teeth should eventually be.
At this stage, we should have a clear idea of how many aligners you will need in total. Dr Kachhala will have spent a considerable amount of time measuring and modifying your virtual treatment plan by this appointment, to ensure that the 3D digital simulation reflects what can be achieved in reality.
You'll also have another opportunity to discuss your treatment and ask more questions at this appointment.
Once you confirm that you're happy to proceed, we will confirm manufacture of the custom-made aligners. You'll only be a few weeks away from beginning your treatment!
Step four: Invisalign® manufactures your aligners
Once you approve your virtual treatment plan, we will order your aligners. Invisalign® uses the approved 3D computer imaging technology to transform your impressions into the custom-made series of clear and removable aligners. This stage can take up to 2-3 more weeks as the aligners are manufactured and shipped from the USA.
Step five (2-3 weeks after step three): Your actual treatment begins
Once we receive your aligners from Invisalign® your treatment can begin. We will fit the initial aligner and demonstrate how it should be looked after, as well as discussing wear time and steps that you can take to maximise the effectiveness of your orthodontic treatment. You will be given the first batch of aligners, so that you can change them every two weeks without needing to come into the practice.
Dr Kachhala will want to see you for a regular progress check-up every 8-10 or even 12 weeks so that he can ensure that your treatment is following the 3D simulation and that your teeth are tracking as they should.
…And after around 12-15 months: A straighter, more confident smile!
After 12-15 months (on average) you've finished your treatment! Once you've finished wearing each aligner in the series and you and Dr Kachhala are both happy with the outcome, your treatment will be complete. After years of hiding your smile behind your hands or lips or lurking at the back of photographs, you can smile with confidence and show off your straighter teeth to the world!
'Real Results at our practice'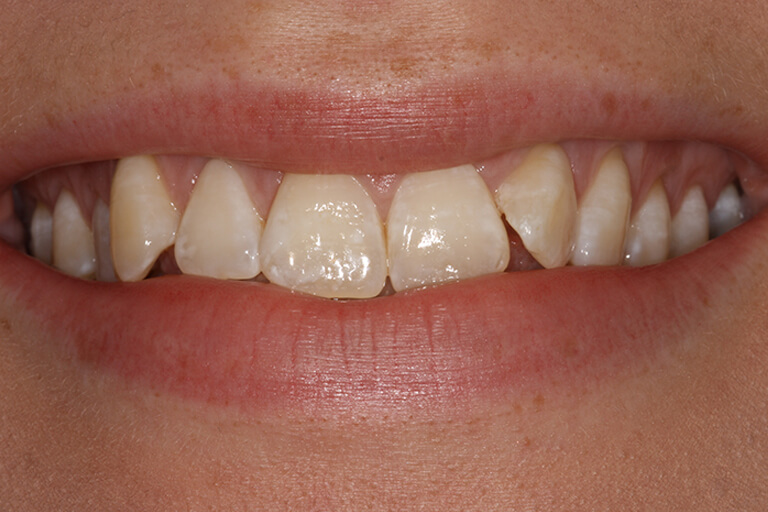 Before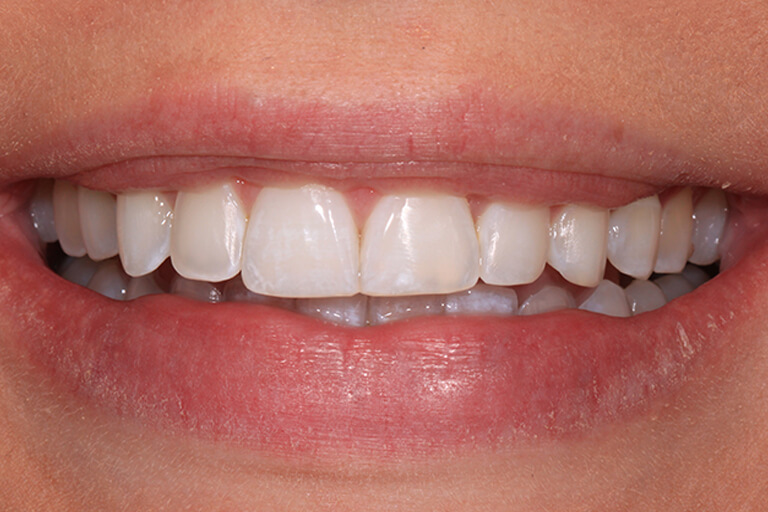 After
Invisalign® APPOINTMENT FORM
Are you tired of hiding your smile behind your lips or hands?
Are you looking for a discreet teeth straightening orthodontic solution that would fit in with your busy schedule?
Would you like to know more about Invisalign® and whether it's the right teeth straightening option for you?
The best way to decide is to discuss your individual case with us.
We'll give you an honest unbiased opinion, based on our years of experience and by focussing only on your needs.
To arrange your initial free chat with our Patient Care Coordinator, simply click here, fill out the form and a member of our team will be in touch.
Alternatively, call us today on 01926 512 747 (select option 1 to speak to Sue, our Patient Care Coordinator).